Tips for Maintaining a Clean Break Room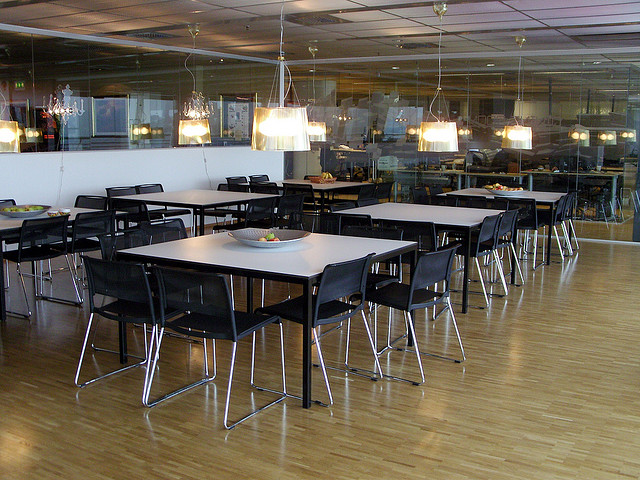 The break room might be the smallest space in your office, yet it can be the hardest area to keep clean. This is where your employees eat their lunches and enjoy short breaks.
A break room can eliminate the need to eat at one's desk, resulting in cleaner workstations. But unfortunately, the more people using the break room, the more crumbs, stains and trash you'll have in this space.
Keeping the office break room clean certainly has its challenges. But with everyone's cooperation, there are ways to keep this space, tidy, clean and sanitized.
#1. Remove trash daily
As a rule, ask employees not to leave food or food containers in the break room overnight. This can create an unpleasant odor. Employees should use the garbage disposal attached to the sink, if available, or take trash to an outside dumpster.
#2. Disinfect tables and other surfaces
Purchase disinfecting wipes for the office break room. Additionally, require that each employee clean up after himself. This includes removing all food items from the break room table and disinfecting the table before returning to work. Also, employees should clean any spills they cause in the microwave, the refrigerator or on cabinets.
#3. Keep a supply of cleaning supplies
To encourage cooperation, maintain a supply of cleaning supplies, such as a broom, a dust pan, trash bags and other surface cleaners.
#4. Hire a professional office cleaning company
If you're too busy to handle your own janitorial needs, hire a company for office cleaning. A professional company will not only ensure the cleanliness of your break room, they'll also care for other areas of your office – dust workstations, vacuum floors, remove trash, disinfect surfaces, clean mini-blinds, etc.
For more information on how you can benefit from green commercial office cleaning in Hampton Roads (Chesapeake, Virginia Beach, Suffolk, Norfolk and Portsmouth), call (757) 303-5275 or complete the contact us form to schedule a free estimate. 
Image Credit: Flickr