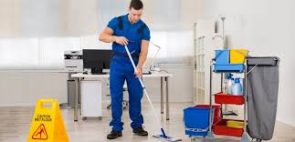 We are looking for a cleaning technician, floater/trainer to join our team who embodies our companies core values of Honesty, Reliability, Good Communication, and Helping others.
Duties Include:
Sweeping, mopping, vacuuming, dusting, removing trash, disinfecting kitchenette and bathrooms.
Requirements:
Must embody our companies core values: Honesty, Reliability, Good Communication, and Helping others.
Must be able to work a shift of about 2-4 hours.
Can pass a drug test and a criminal history background check.
Must have a driver's license and a personal vehicle.
Must work well with others and have a positive attitude.
Must be on call as a floater and can make themself available as the need arises to cover other shifts.
Must enjoy helping others and training new cleaning technicians.
Must have a smartphone for use of an app during/after cleaning shifts.
Wash microfiber cloths/mop heads after using them.
Looking for MORE than just a paycheck?
This opportunity IS for you if:
You always tell the truth
You can't STAND being late or missing work
You LOVE working hard to serve others
You believe work should be MORE than just a place to trade your time for a couple bucks
You aren't afraid of hard work and think being a cleaner is awesome
You love being recognized for going above and beyond
You want to have fun, be yourself, help out, and make money!
This is opportunity is NOT for you if:
You can't pass a background check, or a drug test
You don't have reliable transportation and a driver's license.
You don't take showing up on time every time seriously
Fill out the below online application. We will call you back to set up an interview.  We can't wait to meet you!!
Locations Where Cleaning Technicians Will Be Working:
Details provided in interview.